Andrew Lane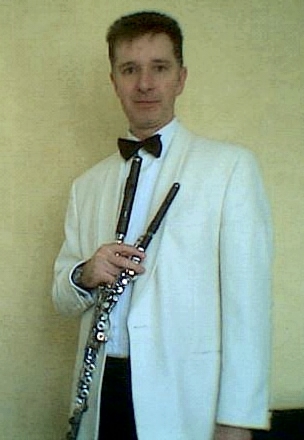 Andrew Lane has been Principal Piccolo player with the City of Birmingham Symphony Orchestra since 1978. He was born and brought up in North Wales, and after some inspiring flute lessons with Atarah Ben-Tovim he went to London to study at the Royal Academy of Music, where he benefited from the wisdom of Derek Honner for 4 years. He then joined the orchestra of D'Oyly Carte Opera Company, and spent a season with Max Jaffa's spa orchestra in Scarborough, prior to joining the C.B.S.O.
Andrew coaches individuals and groups on flute and piccolo, enjoys playing chamber music, and likes to try out his Spanish in México, Spain, Argentina, California…. dondequiera que haya una oportunidad natural de usar la lengua.
The flute he plays is a Brannen Cooper with a Peter Worrell blackwood headjoint, and his piccolo was made by Hans Reiner. When at home, he can usually play at least 4 tunes on his much loved, but seldom seen Hohner chromatic button accordion.
Ever since Andrew's first invitation to play with the Berkley Salon Ensemble in March 2002, his pleasurable memories of similar music making in the Max Jaffa spa orchestra have continued to be recreated and enhanced.
Click here to return to the Player Profile menu