Ensemble Information
The Berkley Salon Ensemble is now an established offshoot of the City of Birmingham Symphony Orchestra. Formed in 1999 by CBSO bass trombonist Alwyn Green (pictured left), the ensemble comprises ten versatile professional musicians - 2 violins, viola, 'cello, bass, piano, flute/piccolo, clarinet/saxophone, trombone/cornet and percussion. Where circumstances permit, the ensemble is enlarged to include singers and other instruments. As an accomplished arranger, Alwyn has had some experience of writing for and recording with Palm Court orchestras. We therefore boast a very wide repertoire, from classical, through British light music, to early pop and jazz, from circa 1850 to the Second World War, taking you back to the days of Palm Court music and the Victorian Salon.
In its relatively brief existence, the Ensemble has made quite an impact on the light music scene. Aswell as engagements in the CBSO calendar, past performances have included functions and community concerts. We have also appeared at the Aldeburgh, Stratford, Solihull and the Three Choirs Festivals. In 2002, the ensemble performed in the presence of H.M. Queen Elizabeth II and the Duke of Edinburgh during the Golden Jubilee celebrations. In 2003 the Ensemble presented an education project for schoolchildren as part of the Cologne Festival.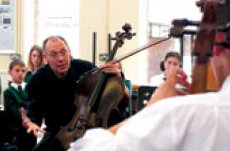 Education projects and performances form the core of our work. In this field, our work ranges from our highly popular Notelets concert series, through to major projects where the ensemble works with schools to assist pupils in composing and performing their own music.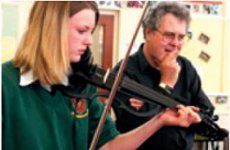 Coaching youth orchestras is another valuable outlet, where we are able to work with individual sections before rehearsing and performing as a team.
Life was less stressful and taken at a rather more leisurely pace in the Palm Court era, so the Ensemble invites you to allow your nostalgia free rein, sit back and enjoy the therapy - or get up and dance as the mood takes you.